Biergarten and Taproom open
Thursday-Sunday 12-8pm.
******************
Sloppy Mo's
Pop Up Kitchen Open
Wednesday 12-8PM.
******************
Closed Monday & Tuesday
******************
*We look forward to seeing you!*
Order Online for Takeout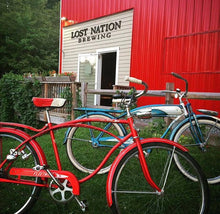 Biergarten
Open for the Season
LOKAL RESIDENT
Czech Style 12° Pale Lager
Triple decocted and brewed with Czech malt, hops and a classic Czech yeast. An homage to two of the best things we experienced on a trip to the Czech Republic. Available Now in 16oz Cans
DOBRE PIVO
Czech Style 15° Amber Lager
A 'Good Beer', Dobre Pivo is 15° Czech Style Amber Lager brewed with Czech floor malt, Czech Saaz hops and Budvar yeast. 
Currently On Tap
Vermont Pilsner - Franconian Style Pils (4.8% ABV)
Rustic Ale - Dry Hopped Amber Ale (5.5% ABV)
Marzen - Amber Lager (5.5 ABV)
Mosaic IPA - India Pale Ale (5.5% ABV)